SKIING HISTORY
Editor Seth Masia
Managing Editor Greg Ditrinco
Consulting Editor Cindy Hirschfeld
Art Director Edna Baker
Editorial Board
Seth Masia, Chairman
John Allen, Andy Bigford, John Caldwell, Jeremy Davis, Kirby Gilbert, Paul Hooge, Jeff Leich, Bob Soden
Founding Editors 
Morten Lund, Glenn Parkinson
To preserve skiing history and to increase awareness of the sport's heritage
ISHA Founder 
Mason Beekley, 1927–2001
ISHA Board of Directors
Rick Moulton, Chairman
Seth Masia, President
Wini Jones, Vice President
Jeff Blumenfeld, Vice President
John McMurtry, Vice President
Bob Soden (Canada), Treasurer
Richard Allen, Skip Beitzel, Michael Calderone, Dick Cutler, Wendolyn Holland, Ken Hugessen (Canada), David Ingemie, Joe Jay Jalbert, Henri Rivers, Charles Sanders, Einar Sunde, Christof Thöny (Austria), Ivan Wagner (Switzerland)
Presidential Circle
Christin Cooper, Billy Kidd, Jean-Claude Killy, Bode Miller, Doug Pfeiffer, Penny Pitou, Nancy Greene Raine, Lindsey Vonn
Executive Director
Janet White
janet@skiinghistory.org
Membership Services 
Jamie Coleman
(802) 375-1105
jamie@skiinghistory.org
Corporate Sponsorships 
Peter Kirkpatrick
(541) 944-3095
peterk10950@gmail.com
Bimonthly journal and official publication of the International Skiing History Association (ISHA)
Partners: U.S. Ski and Snowboard Hall of Fame | Canadian Ski Museum and Hall of Fame
Alf Engen Ski Museum | North American Snowsports Journalists Association | Swiss Academic Ski Club
Skiing History (USPS No. 16-201, ISSN: 23293659) is published bimonthly by the International Skiing History Association, P.O. Box 1064, Manchester Center, VT 05255.
Periodicals postage paid at Manchester Center, VT and at additional mailing offices. Postmaster: Send address changes to ISHA, P.O. Box 1064, Manchester Center, VT 05255
ISHA is a 501(c)(3) public charity. EIN: 06-1347398
Written permission from the editor is required to reproduce, in any manner, the contents of Skiing History, either in full or in part.
US Ski Team Reunion, Jay Peak Sold, Patagonia Donated to Foundation
Chief of Sport Anouk Patty engages the team's legacy. 
In August 2022, more than 100 former U.S. Ski Team athletes, coaches and techs gathered in Park City, Utah, for an unofficial reunion. Attendees represented teams from 1968 (Robin Morning) through 2021 (local Ted Ligety), with heavy representation from the 1990s. The 1994 Olympic team got the gold with 16 athletes attending, while the 1988 and 1992 teams tied for silver, each with 13 athletes present.
Other than a brief run of Return of the Champions events in the 1990s, when designated Olympic teams were invited, U.S. Ski Team reunions have been a notoriously tough sell. Many, if not most, alumni did not retire by choice and are wary of events that carry a hierarchy or a fundraising agenda. Consequently, three-time Olympian Heidi Voelker ('88, '92, '94), who conceived of the event, used the term "unofficial" to lure former teammates to attend. From there, the list grew organically by word of mouth.
Voelker made it a point to welcome the entire U.S. Ski and Snowboard family—employees and coaches as well as equipment service techs. In an era before cell phones and the Internet provided a constant connection to home, this extended family played a critical role in creating a positive team dynamic.
"I think by having it all together, it's a big family instead of just the athletes," says Voelker.
The main event took place on a Saturday afternoon, with an outdoor gathering at the Park City Peaks Hotel's Versante Hearth and Bar. The following morning, ski team alumni and current U.S. Ski and Snowboard Chief of Sport Anouk Patty led a tour of the Center of Excellence (COE), the organization's headquarters since 2009.
Getting Up to Speed in a New Era
For Patty, the reunion served as an opportunity to reconnect with teammates and update them on today's U.S. Ski Team and the COE. The center opened long after most attendees had retired and has been a source of friction; its launch coincided with a sharp drop in athlete funding, accompanied by the creation of a "pay-to-play" model that many feel limited development.
In addition to running through a wide range of current U.S. Ski and Snowboard issues—ranging from development and doping to mental health and evolving gender policies—Patty and Director of Alpine Sport Science Per Lundstam walked the group through the latest performance initiatives and equipment. These include a ski simulator used by injured athletes in the early stages of rehab; a full-body scanner that creates avatars of each athlete, then searches for aerodynamic advantages that can be gleaned through race-suit materials; a new SEGR leg press, designed to prep the body for ski racing's uniquely punishing eccentric loads; and an extensive rehab facility.
For both Lundstam and Patty, this is their second stint with the U.S. Ski Team. A graduate of Green Mountain Valley School, Patty was on the national team from 1985 to 1987, then left to attend Dartmouth, where she won the NCAA GS championship in 1988. After graduating from Dartmouth and earning a graduate business degree at Harvard's Business School, she ran tech enterprises at major Silicon Valley firms.
Lundstam was head strength coach for the U.S. Ski Team from 1994 to 2010. He returned to the team last year after 11 years as director of performance for Red Bull.
Many of Lundstam's athletes attended the reunion, including Daron Rahlves, the 2001 World Champion in super G and winner of nine World Cup downhills. Rahlves retired in 2006, three years before the COE opened, and says he sees many benefits of the center. During his era, athletes had to travel to other training facilities throughout the off-season. "Now the resources at the COE can keep the team centralized," says Rahlves. He also likes the rehab facilities and the new return-to-snow protocols in helping injured athletes come back stronger and better prepared. "I would have definitely taken advantage, and it would have made a difference," he says.
Rahlves returned to the COE in October 2022 to appear in a speaker series created by Lundstam, and Patty has enlisted Olympic champ Picabo Street to communicate with current athletes. Both programs are intended to engage today's athletes with the team's history. "We have an incredible legacy of success," says Patty. "In my role, I want to tap into that legacy to help our current athletes—the knowledge transfer is invaluable."
Former U.S. Ski Team members can opt into the alumni outreach effort by contacting U.S. Ski and Snowboard athlete outreach and engagement manager Mackenzie St. Onge at mackenzie@usskiandsnowboard.org. --Edith Thys Morgan
Jay Peak Resolves EB-5 Visa Scandal
Vermont resort joins PGR empire.
On September 8, 2022, Vermont's Jay Peak Resort was purchased at auction by Pacific Group Resorts for a reported $76 million. Jay thus joins a small, far-flung empire consisting of Mount Washington, British Columbia; Powderhorn, Colorado; Ragged Mountain, New Hampshire; Wintergreen, Virginia; and Wisp, Maryland. No changes in local management or operations are planned for the coming winter.
The sale brings the resort out from under a financial and legal cloud. In 2008, Jay Peak was purchased from its Canadian owners, Mont Saint Sauveur International, by a local investment group led by Ariel Quiros and Jay's COO, Bill Stenger. The new owners saw potential for growth by using the U.S. government's EB-5 visa program, under which foreign nationals can earn a green card by investing $500,000 into a new business employing at least 10 Americans. The partners proposed an indoor waterpark and NHL-sized ice rink, several grand hotels, lift upgrades, a golf course and many other amenities, and they attracted around $250 million in foreign investment. The projects were mostly completed, but it all unraveled in 2016 when agents of the U.S. Securities and Exchange Commission began investigating the resort. They accused Quiros of stealing approximately $50 million from investors (that number would increase as the investigation proceeded) and put Jay Peak into receivership. This became the most prominent of a half-dozen EB-5 fraud actions across the country.
The mountain sits in a natural powder pocket and claims the best average annual snowfall (359 inches) in eastern North America. The resort began in the mid-1950s as a gleam in the eye of a Kiwanis Club booster, Harold Haynes. It was brought to reality, in true bootstrap fashion, by an irrepressible local priest, Father George St. Onge, and his clever pitch of $10-a-share sales.
By 1966, Austrian ski-technique guru Walter Foeger had grown the one-slope, one-lift ski area into a 30-trail, five-lift phenomenon. Foeger's popular Natur Teknik, a program that taught guests to ski parallel in a week, had a lot to do with producing the area's positive balance sheet.
That caught the eye of Weyerhaeuser Company, a neighboring landowner. The forest-products company saw an opportunity to repurpose its logged-out land and cash in on the real estate boom. It bought Jay Peak's outstanding shares, planned a $10 million investment and installed Vermont's first aerial tramway in 1966. —Bob Soden
Don't Read This Story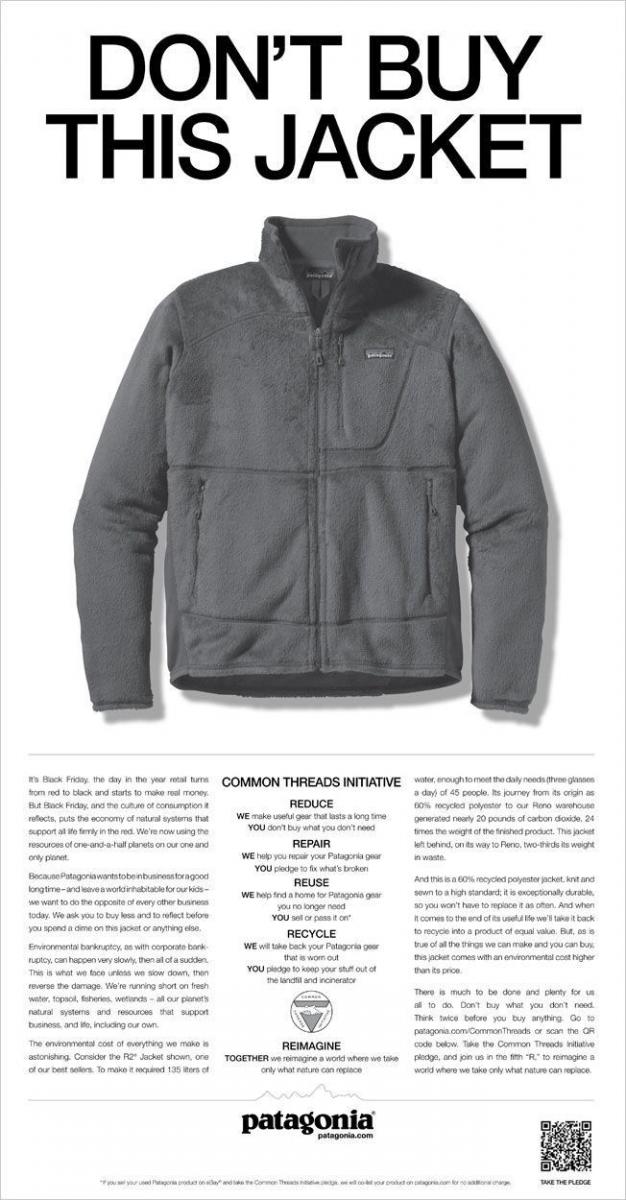 Yvon Chouinard stays true to his environmental mission.
In November 2011, the outdoor clothing company Patagonia purchased a full-page ad in the New York Times that featured its best-selling product with the headline: "Don't buy this jacket." It was an audacious call to (in)action on Black Friday, the annual start of the Christmas shopping season.
The ad explained that producing the jacket required 36 gallons of water (enough to fill the daily needs of 45 people), and emitted 20 pounds of carbon dioxide (24 times the weight of the garment). In addition, two-thirds of the jacket's weight in waste was discarded during the manufacturing process.
Cynics touted the "Don't Buy" campaign as a brilliant stroke of counterculture marketing, and, indeed, Patagonia's sales increased a reported 30 percent. Supporters replied that it was merely a public continuation of founder Yvon Chouinard's long-standing commitment to support the environment, established when he founded the company in 1973, as a pioneering rock climber, alpinist and half-hearted capitalist.
All doubts about his green cred were resolved in September 2022. Patagonia announced that in passing the torch, the 83-year-old Chouinard and his family had transferred ownership, valued at about $3 billion, to a new trust and a nonprofit organization, both created to ensure that Patagonia's profits—some $100 million annually—will be used to combat climate change and protect undeveloped land around the globe. Donating the company conferred no tax benefit to the family.
"Hopefully this will influence a new form of capitalism that doesn't end up with a few rich people and a bunch of poor people," Chouinard told the New York Times. "We are going to give away the maximum amount of money to people who are actively working on saving this planet." 
Snapshots in Time
1940 Good Advice Never Gets Old
Ski-patrol service is voluntary and unpaid, but membership is limited to accomplished amateurs who have passed the Red Cross 20-hour first-aid course. Patrolmen instruct novices in safety precautions and promote ski ethics like walking up the side of trails and refilling sitz-marks (the divots of skiing). Their studies reveal that mishaps befall over-zealous tyros and tired skiers in the late afternoon. Their advice to beginners: "Don't try to do too much." To all skiers: "Never ski alone. Stop when you're tired." — "National Ski Patrol Makes Perilous Rescues High on Slopes of Mt. Hood" (Life Magazine, March 18, 1940)
1980 Inconceivable Prices
What most noticeably will hit skiers' finances this winter are the increases in lift ticket charges. The $20 lift ticket, once totally inconceivable, has been conceived at Stratton. In the Rockies, $2 increases seem in fashion and put lift tickets at Aspen and Vail at $18, and Steamboat at $16. — Jeff Frees, "The High Cost of Skiing," (Powder, December 1980)
1978 Risk v. Reward
I have been skiing o.b. for many years. Skiing out of bounds is extremely dangerous. Inevitably some crazy powder addicts (myself included) will continue to leave the "safe" confines of patrolled areas. After reading Lou Dawson's account and subtle hints ("... how far can you crawl with a spinal fracture?"), I realized certain steps must be taken to ensure the safety or at least the survival of o.b. skiers. Education is what is needed on this topic. — Steven Harrison, Central Valley, New York, "Whistling in the Dark" (Letters, Powder Magazine, Spring 1978)
1985 hot or not?
Today, at resorts all over the Alps, mono-skiing is hot. Good skiers, ready for something new, are finding mono-skis especially good for wide-open powder bowls. — Bill Grout, "The Mono-Ski and Me" (Skiing Magazine, October 1985)
1990 Boarder Bigotry
As a snowboarder who lives in Vermont, I'm tired of the inane accusations that snowboarders knock snow off trails and ruin them. A good snowboarder does no more damage to a trail than a good skier, but novice skiers and snowboarders who don't carve turns are the problem. — Dave Austin, Vergennes, Vermont, "Slip-Sliding Away" (Letters, Snow Country, February 1990)
1999 Marketing Misstep
In a scene from the 1990 film Home Alone, child star Macaulay Culkin escapes two robbers by tobogganing down a staircase and out the front door. The script originally called for Culkin to tuck the stairs on skis, but Rossignol chose not to participate, and the scene eventually evolved into a toboggan stunt. "We were concerned that kids would try to imitate the film and hurt themselves," says Jeanne-Marie Gand, Rossignol's vice president of communications. The movie, of course, became one of the most successful family films of all time. "Sometimes I kick myself over that one," Gand admits. — "Cool Bond Stunt, but Look at Those Skis" (SKI Magazine, November 1999)