SKIING HISTORY
Editor Seth Masia
Managing Editor Greg Ditrinco
Consulting Editor Cindy Hirschfeld
Art Director Edna Baker
Editorial Board
Seth Masia, Chairman
John Allen, Andy Bigford, John Caldwell, Jeremy Davis, Kirby Gilbert, Paul Hooge, Jeff Leich, Bob Soden
Founding Editors 
Morten Lund, Glenn Parkinson
To preserve skiing history and to increase awareness of the sport's heritage
ISHA Founder 
Mason Beekley, 1927–2001
ISHA Board of Directors
Rick Moulton, Chairman
Seth Masia, President
Wini Jones, Vice President
Jeff Blumenfeld, Vice President
John McMurtry, Vice President
Bob Soden (Canada), Treasurer
Richard Allen, Skip Beitzel, Michael Calderone, Dick Cutler, Wendolyn Holland, Ken Hugessen (Canada), David Ingemie, Joe Jay Jalbert, Henri Rivers, Charles Sanders, Einar Sunde, Christof Thöny (Austria), Ivan Wagner (Switzerland)
Presidential Circle
Christin Cooper, Billy Kidd, Jean-Claude Killy, Bode Miller, Doug Pfeiffer, Penny Pitou, Nancy Greene Raine, Lindsey Vonn
Executive Director
Janet White
janet@skiinghistory.org
Membership Services 
Jamie Coleman
(802) 375-1105
jamie@skiinghistory.org
Corporate Sponsorships 
Peter Kirkpatrick
(541) 944-3095
peterk10950@gmail.com
Bimonthly journal and official publication of the International Skiing History Association (ISHA)
Partners: U.S. Ski and Snowboard Hall of Fame | Canadian Ski Museum and Hall of Fame
Alf Engen Ski Museum | North American Snowsports Journalists Association | Swiss Academic Ski Club
Skiing History (USPS No. 16-201, ISSN: 23293659) is published bimonthly by the International Skiing History Association, P.O. Box 1064, Manchester Center, VT 05255.
Periodicals postage paid at Manchester Center, VT and at additional mailing offices. Postmaster: Send address changes to ISHA, P.O. Box 1064, Manchester Center, VT 05255
ISHA is a 501(c)(3) public charity. EIN: 06-1347398
Written permission from the editor is required to reproduce, in any manner, the contents of Skiing History, either in full or in part.
There are other examples to add to the article "Lifts That Went Nowhere," by Jeff Blumenfeld (May-June 2022), which described experimental ski lifts that were not successful. Here are two: In 1935, the Mt. Baker Development Company was looking for ways to develop the area. In December 1935, the company began operating a cable-drawn sled called a "ski escalator" to transport skiers from Terminal Lake up Panorama Dome (photo top of page). Developed and operated by a logger, Arthur Brandlund, the lift used a system of pulleys and cables adapted from the logging industry. However, the sled would get bogged down in deep snow. The lift operated for less than a month. In January 1936, Brandlund and two others were pulling themselves up the hill using the sled's haul-back cable to start the "escalator" when an avalanche hit. Brandlund was killed. The lift was not used again.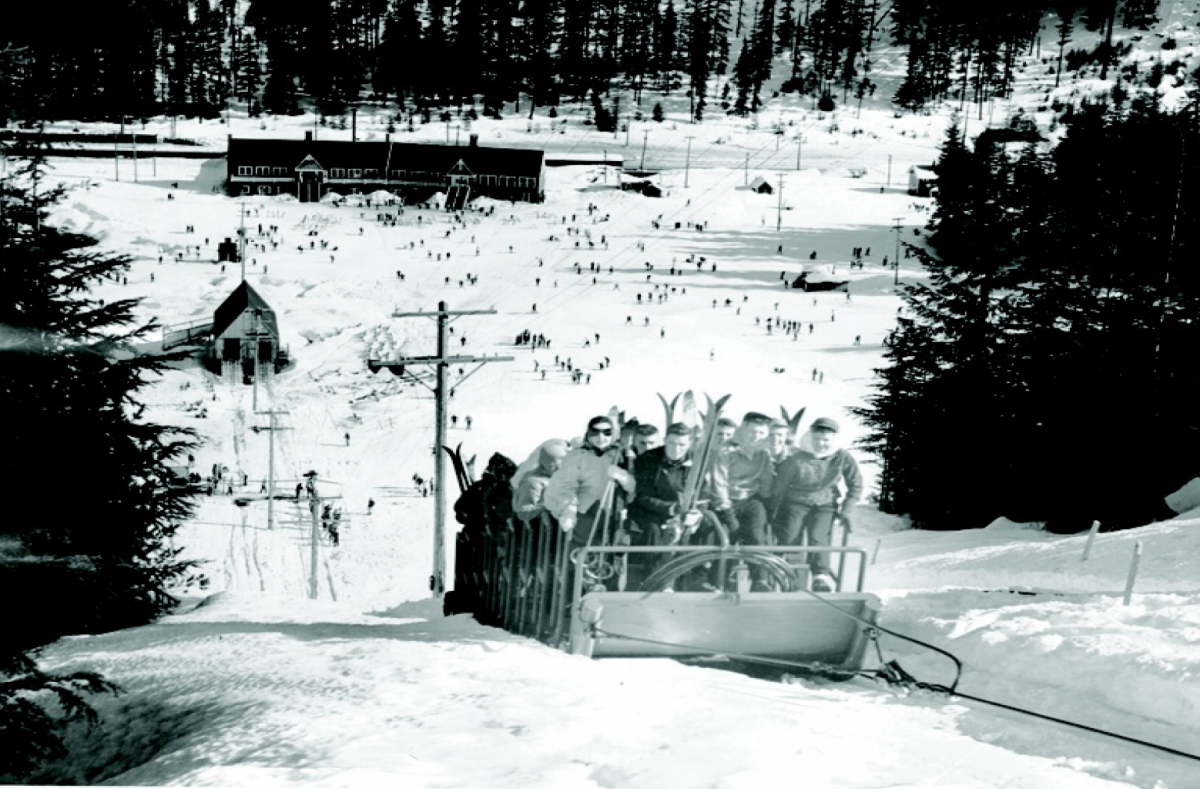 In 1938, the Chicago, Milwaukee, St. Paul and Pacific Railroad (Milwaukee Road) opened Washington's first modern ski area, the Milwaukee Ski Bowl, at the east portal of its tunnel under Snoqualmie Pass. The ski area was accessible from
Seattle by train in two hours. Ski trains had reserved seats, a baggage car with waxing tables and a recreation car for dancing. After being closed during WWII, the Ski Bowl reopened in 1947 with a new lift consisting of two large sleds, each capable of carrying 32 persons standing up, called a "Skiboggan." A chair lift could take 285 people an hour up a hill, but the Skiboggan could transport 1,440 an hour and also transport skiers and non-skiers up and down the hill. It was an immediate hit. The Ski Bowl closed in 1950 after a fire destroyed its lodge, and the railroad decided not to reopen it, a major blow to Washington skiing and the end of the Skiboggan.
John W. Lundin
Seattle, Washington
Where's That Summit?
In "Pioneers of Southland Skiing" (July-August 2022), Randy Johnson wrote that "in 1856, snow stopped mail carriers crossing the Blue Ridge Mountains near Cheat Mountain, today the site of West Virginia's Snowshoe Mountain ski resort." I spent a lot of time in Pocahontas County growing up and wrote a book on all the Civil War sites in West Virginia, including Cheat Mountain. They actually crossed the Allegheny Mountains (the Blue Ridge are mainly in Virginia). Snowshoe is not on Cheat Mountain. A Civil War fort is on Cheat and is a historic site.
Stan Cohen
Missoula, Montana
(Stan has won three ISHA Awards for his pictorial histories on the 1936 Olympics and early skiing in Montana).
Randy Johnson replies:
The statement was meant as geographical shorthand. The Blue Ridge is crossed first, then the Shenandoah Valley, then the Allegheny Front, where Cheat Mountain is one of many parallel ridges—it's more than 50 miles long and up to five miles wide. Snowshoe Mountain ski area sits on the mountain's highest, southernmost tip, while Fort Milroy, the Civil War site, is located farther north on Cheat Summit, which despite the name is almost 1,000 feet lower than Snowshoe's 4,848 feet. 
Be a Holiday Hero
Impress your family and friends by immersing them in the history of our sport for the holidays. A subscription to Skiing History magazine is the ideal gift for the discerning skier or rider­­—and conveniently suitable as a great stocking-stuffer. Go to skiinghistory.org/join to send a subscription to a friend or family member at a discounted holiday gift rate.