SKIING HISTORY
Editor Seth Masia
Managing Editor Greg Ditrinco
Consulting Editor Cindy Hirschfeld
Art Director Edna Baker
Editorial Board
Seth Masia, Chairman
John Allen, Andy Bigford, John Caldwell, Jeremy Davis, Kirby Gilbert, Paul Hooge, Jeff Leich, Bob Soden
Founding Editors 
Morten Lund, Glenn Parkinson
To preserve skiing history and to increase awareness of the sport's heritage
ISHA Founder 
Mason Beekley, 1927–2001
ISHA Board of Directors
Rick Moulton, Chairman
Seth Masia, President
Wini Jones, Vice President
Jeff Blumenfeld, Vice President
John McMurtry, Vice President
Bob Soden (Canada), Treasurer
Richard Allen, Skip Beitzel, Michael Calderone, Dick Cutler, Wendolyn Holland, Ken Hugessen (Canada), David Ingemie, Joe Jay Jalbert, Henri Rivers, Charles Sanders, Einar Sunde, Christof Thöny (Austria), Ivan Wagner (Switzerland)
Presidential Circle
Christin Cooper, Billy Kidd, Jean-Claude Killy, Bode Miller, Doug Pfeiffer, Penny Pitou, Nancy Greene Raine, Lindsey Vonn
Executive Director
Janet White
janet@skiinghistory.org
Membership Services 
Jamie Coleman
(802) 375-1105
jamie@skiinghistory.org
Corporate Sponsorships 
Peter Kirkpatrick
(541) 944-3095
peterk10950@gmail.com
Bimonthly journal and official publication of the International Skiing History Association (ISHA)
Partners: U.S. Ski and Snowboard Hall of Fame | Canadian Ski Museum and Hall of Fame
Alf Engen Ski Museum | North American Snowsports Journalists Association | Swiss Academic Ski Club
Skiing History (USPS No. 16-201, ISSN: 23293659) is published bimonthly by the International Skiing History Association, P.O. Box 1064, Manchester Center, VT 05255.
Periodicals postage paid at Manchester Center, VT and at additional mailing offices. Postmaster: Send address changes to ISHA, P.O. Box 1064, Manchester Center, VT 05255
ISHA is a 501(c)(3) public charity. EIN: 06-1347398
Written permission from the editor is required to reproduce, in any manner, the contents of Skiing History, either in full or in part.
Team Players: Caroline Lalive and Nelson Carmichael
A pair of Olympians lives happily ever after.
Like every couple with young kids, Nelson Carmichael and Caroline Lalive are constantly on the run. Unlike most couples, they bring Olympian chops to the task.
Photo above: Carmichael and Lalive live in Steamboat Springs, Colorado, with daughter Freya and son Hugo.
At home in Steamboat Springs, Colorado, where both were based for their competitive careers, their days revolve around family. Daughter Freya (almost seven) and son Hugo (four) go to first grade and preschool, respectively, while Carmichael and Lalive juggle kid duties with work. In addition to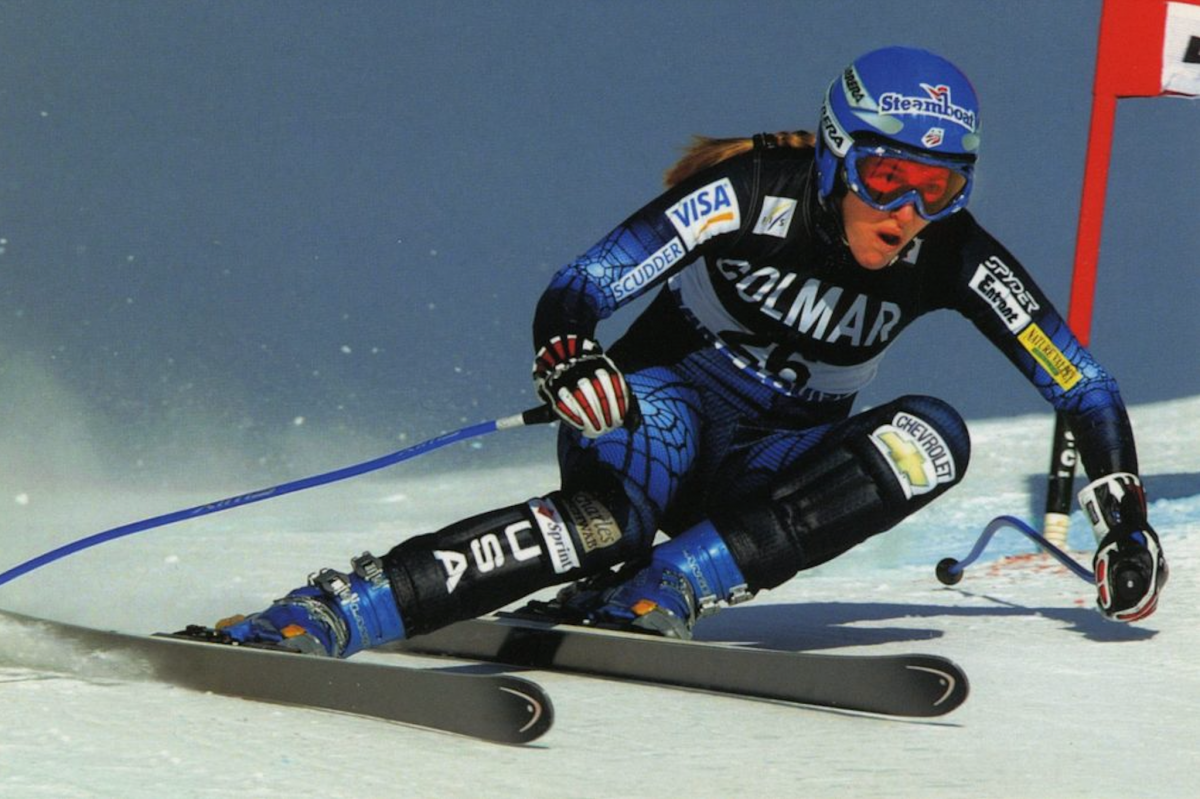 seasonal promotional work for the Steamboat ski area, Carmichael has various real estate and renovation projects, including building the couple's own house, a two-year project near completion. Lalive's makeup business runs full tilt during peak wedding season, then calms down in winter, giving her time to coach Freya's U8 ski team and do some public relations work for the resort.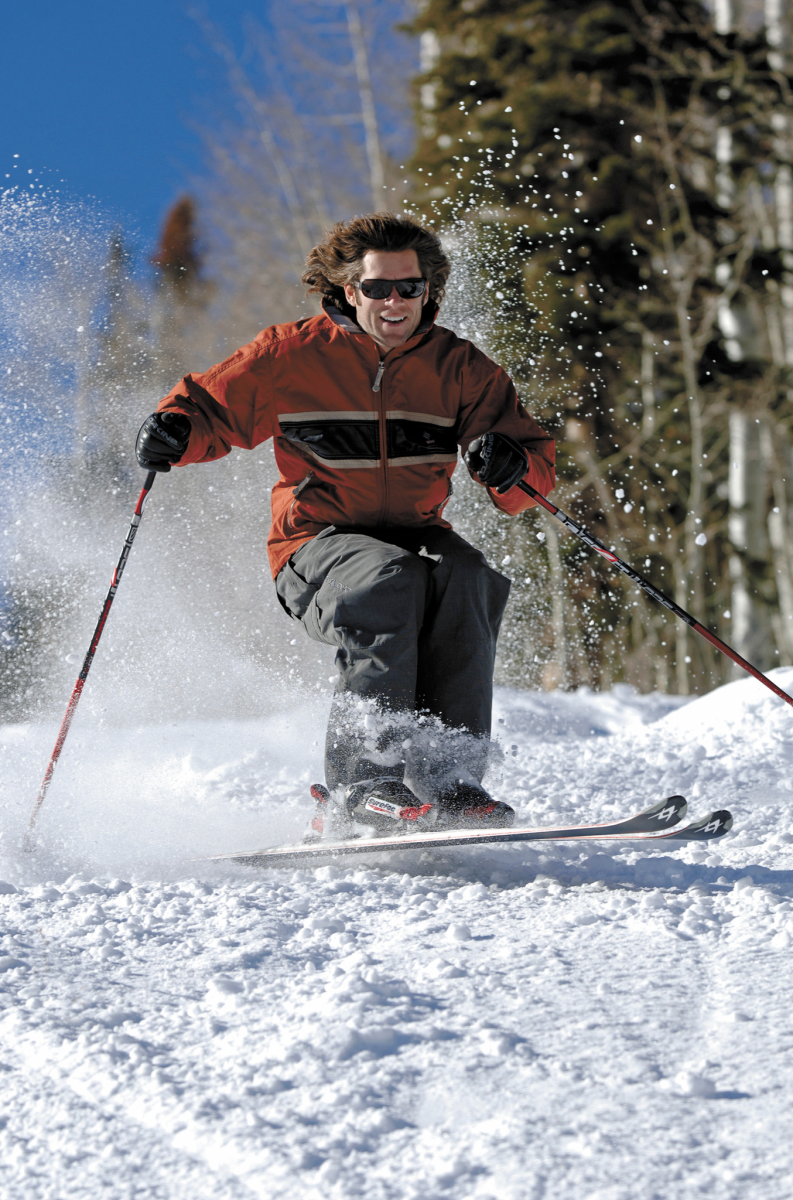 The couple lives with Lalive's sister, Isabelle, and five-year-old niece, Oceana, as well as Carmichael's mother, Marie. Carmichael has a son, Noah, 25, by a previous marriage, whom they see often; he produces music in Los Angeles. Caroline's mother, Frances, passed away from cancer last year. Last summer Lalive took both kids to Switzerland to visit her brother, John-Philippe, and father, François, both of whom live near Geneva, at a family reunion. They also make time for high-test recreation that to most people would seem extreme. "There is no downtime," admits Lalive, while mixing up a batch of blueberry muffins with her young helpers before the next activity.
Athletically, Carmichael, 57, and Lalive, 43, have much in common. Both enjoyed early success and competed in two Olympics. Carmichael was a dominant competitor in mogul skiing when it was a demonstration sport at the 1988 Olympics and became an official Olympic sport in 1992, winning Team USA's first medal in the event. Lalive competed in the 1998 and 2002 Olympic, and in her 13-year run was one of the U.S. Ski Team's most successful all-event Alpine skiers.
Their personalities and their paths, however, are very different. Carmichael is laid-back, quiet and steady. Lalive is bubbly, gregarious and always hits the gas hard. Carmichael happened upon Steamboat, and a competitive freestyle skiing career, by chance. Lalive's family came to Steamboat in large part for its ski racing possibilities. Both, however, came through the ranks with a trusted coach, in supportive team environments. They've used that sensibility as a template to turn their unique mix of talent, temperament and determination into a winning team.
Carmichael, the Silent Warrior
Carmichael was born in Columbus, Ohio, and learned to ski at Kissing Bridge near Buffalo, New York. In 1977 the family—Hugh, Marie and their two kids, Kathryn and Nelson—moved to Steamboat Springs. Hugh had been hired as executive director of the Lichen School, a small boarding school on nearby Rabbit Ears Pass, and Marie would teach music at Steamboat's Strawberry Park Elementary School. Eleven-year-old Nelson had never been out West, and he was excited for the new adventure. He played hockey and joined the Steamboat Springs Winter Sports Club (SSWSC) as an Alpine racer.
Carmichael's arrival in Steamboat coincided with a burgeoning freestyle scene, and Nelson soon made the switch. Coach Park Smalley, regarded by many as the father of U.S. Ski Team freestyle skiing, had recently retired from competing and, with his brother Jon, started a summer program in Steamboat. "We had trampolines and we jumped into fluffed-up straw," recalls Smalley. "That's how we would learn our tricks in the summertime." Carmichael joined skiers Kris Feddersen and Cooper Schell, both two years older than him, and took to the sport.
Competitive freestyle in the '70s was "a group of gypsies traveling the country," says Smalley, but by the time Carmichael and his peers were coming up, "there was quite a bit more structure." With year-round training and competition within the program, Carmichael excelled, joining Schell and Feddersen on the national team in 1983, fresh out of high school. Meanwhile, Smalley became the U.S. Ski Team's first freestyle coach and continued to work with his protegées.
While the older boys set the pace, Carmichael quietly kept chipping away. "He just really had to grind, so he became the guy that was always out there, always working," recalls Smalley. "He was probably a better competitor than most, because he had worked that much harder to get there." This was in the days before machine-made mogul courses. Carmichael's smooth, fluid skiing style and ability to look five moguls ahead made all the strategy and spontaneity that went into each run look easy—perhaps, too easy. "I think that's why sometimes he didn't get the judging scores that he deserved," says Smalley.
When freestyle debuted as an Olympic demonstration sport in Calgary in 1988, Carmichael had already won two events and was on his way to earning his first of two World Cup titles. While he was competing in Japan, two weeks before the Winter Games, his father died in a car accident outside of Steamboat Springs. Carmichael competed nonetheless, remembering it as "a really weird experience." In addition to his own shock and grief, the event felt like an add-on, staged in the outrun of the 90-meter ski jump. Not surprisingly, he crashed. The experience, however, and the prospect of the next Olympics, drove him forward.
"That's when he truly became what I called the Silent Warrior," recalls Smalley. Carmichael dove into training. The following year he won four of eight events, podiumed in the other four and firmly claimed his second World Cup title. "He was 'The Guy'" says Smalley.
By 1992, freestyle was a full medal event, which also brought more pressure to perform. "It was not a side show and I wanted to do better," says Carmichael. He won bronze, the first Olympic medal for the U.S. in freestyle skiing. The medal also put an American stamp on a sport that was invented and innovated in this country. "It was much more gratifying because of those four years of struggle in between," Carmichael says.
He retired even before finishing that season, having notched six national titles and 12 World Cup wins. Bored with the routine and the down time, "I felt like I needed to move on," he explains. He eased out of competition by doing some events on the Pro Mogul tour, through 1997, and continued coaching camps at Mount Hood and Steamboat. Carmichael then turned his expertise towards promotional work at the resort, TV commentating and entrepreneurial ventures.
Lalive, the Fearless Competitor
Meanwhile, while Carmichael was winding down his, Caroline Lalive was about to embark on her skiing career. Born in Truckee, California, to Frances Gnam, of Palo Alto, and François Lalive, a ski-racing native of Geneva, Switzerland, Lalive learned to ski and race in the Tahoe area, which she calls "a pillar of my skiing success." The family moved briefly to Hood River, Oregon, before settling in Steamboat Springs. With good schools for the three kids, good skiing and a building boom providing work opportunities, it checked all the boxes.
Be on time, get the job done. No excuses. Those were the ground rules set by George Capaul, head technical coach the U.S. Ski Team from 1985 to 2001. He was working with development athletes when a very talented crop born in 1979 came along, among them Lalive. "I was very lucky to get all of these athletes when they were 14 or so," says Capaul, who called Lalive an incredibly gifted athlete who always gave 100 percent. He instilled in them a sense of hard work as well as team camaraderie, cohesion and fun. Whether skiing, riding high-speed Tyrolean rodel sleds, playing volleyball, eating meals, riding in the van or cheering every last teammate in the finish, they lived as a team. Lalive, who was fluent in French and had lived in Switzerland at times, was also popular with the Europeans. Former U.S. Ski Teamer Jonna Mendes recalls, "I remember it as a very joyful group, and I think a lot of that was Caroline and her ability to bring people together."
The chemistry worked. Lalive, Mendes and Sarah Schleper competed at the 1998 Olympics as teenagers. Lalive finished seventh in the Alpine combined. Under Capaul's guidance, the group moved up the World Cup ranks together. Going into the 2002 Olympics, on home turf in Utah, Lalive had already scored top-15 World Cup results in all events and podiumed in the combined and super G. She also came in with the weight of expectations, overtly from the press and implicitly from the scores of friends and family packed in the finish area. Capaul, badly injured the summer before, was no longer able to coach. Lalive's parents were headed for a divorce. Nonetheless, she went all-out in every race but failed to finish a single event.
While watching Mikaela Shiffrin struggle at the 2022 Winter Olympics in Bejing, Lalive flashed back to her own feelings of being ashamed, embarrassed and lost. The experience was devastating, but she bounced back that season, scoring her first downhill podium in the World Cup Finals. By 2006, despite major injuries (in all she sustained 19 injuries, requiring 30 surgeries), Lalive was back on the podium, physically and mentally ready. Then, in a freak downhill training accident the day she was named to her third Olympic team, she shattered her femur and kneecap.
"I envy Nelson's story," Lalive now says of his hasty retirement. "I desperately wanted to go out on my terms." Instead of quitting, she relearned how to walk and spent two years getting back to competition, only to blow out her other knee. In 2009, after 13 years on the national team and with no further support from the U.S. Ski and Snowboard Association despite her top-20 world ranking, Lalive quietly retired. She remains one of the U.S.'s most successful and versatile skiers, with 30 top-10 World Cup results across all five events and five podiums.
Finding Each Other
Lalive and Carmichael started dating in 2009. Carmichael provided grounding and encouragement, as well as perspective from the other side of retirement. Lalive immediately jumped into finishing college. At 29, she thought she was too old to pursue her dream of medical school so instead studied medical aesthetics.
The two started building their life together and married in 2012. Carmichael, who started several businesses—including a clothing line, instructional videos and a glove company—now finds steady work in real estate and building. Lalive opened a spa and, more recently, started her own studio and makeup service, Caroline Lalive Beauty. Throughout, both have stayed closely connected to skiing, Carmichael through his popular bump clinics and Lalive in a variety of roles, including a few years as SSWSC program director. Her favorite position has been on snow, running women's clinics, coaching kids and sharing her love of the sport. 
Off the Slopes
In keeping with their personalities, Lalive is fiercely competitive in the sports she pursues, which include randonée races, long-distance cross-country skiing and mountain biking. "Whatever I do, I hope to be the best," she says.
Carmichael is more laid back. "For years, I didn't want to compete in anything," he explains. Eventually he started competing in cycling, cross-country skiing and uphill races. "It's always more for fitness and fun," he notes. This aspect of his character, which is also great for parenting, is something Lalive appreciates. "He doesn't feel like he has to prove anything," she says "He's steady, and I really admire that about him. I wish I had known him in my career." The two, along with Noah, are also avid kiteboarders, having traveled as far as Brazil to pursue it.
Next Generation
Lalive and Carmichael will support whatever path their kids chose, with eyes wide open. For now, Freya likes to ski. "If she loves skiing and that's what she wants to do, by all means," says Lalive, while acknowledging the dark side of that pursuit, including that her knees and Carmichael's back are destroyed from their respective careers. "I also don't know if I want to put her through it," she adds. As the couple preps for the coming winter, and a move into their new house, Lalive calls their life a "full juggling act." If anyone can handle it, it's this pair.
Olympian Edith Thys Morgan is a regular contributor. She wrote a two-part series about ski academies in the July-August and September-October issues.