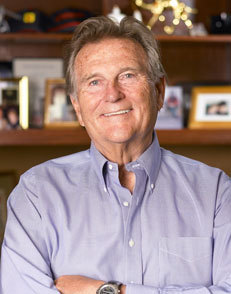 Dr. J. Richard "Steady" Steadman, the pioneering orthopedic surgeon who saved the knees and ankles of generations of ski racers, died in his sleep at home in Vail, Colorado on January 20, at age 85.
Steadman invented revolutionary surgical methods that saved the careers of hundreds of skiers, football players and other athletes.
Born in Sherman, Texas, Steadman was the son of an Air Force officer and attended schools near many different Air Force bases. He earned a scholarship to Harvard, but was recruited to play football at Texas A&M for Coach Bear Bryant. He earned a medical degree at the University of Texas/Dallas campus in 1959, served in the U.S. Army in Germany, and completed an orthopaedics residency in New Orleans. In 1970 he joined a practice in South Lake Tahoe and began treating skiers. He was named team doctor to the U.S. Ski Team in 1974, and moved his Steadman Clinic to Vail in 1990. He retired in 2014.
Steadman pioneered the use of immediate post-surgical physical therapy, recommending movement of the joint in recovery instead of weeks in a cast. The technique accelerated healing, prevented scarring inside the joint, and put athletes back in competition within months. He also invented microfracture therapy to promote cartilage regeneration, and the "healing response" technique to reattach the ACL without sutures.
All these practices are now in use worldwide. Microfracture therapy is reportedly used on more than half a million knees annually.