By Edie Thys Morgan
 St-Germain scores first Canadian gold in 31 years.
Špindlerův Mlýn is a charming resort in the Czech republic that holds special memories for Mikaela Shiffrin. She made her World Cup debut here in March 2011, at age 15. She returned in 2019, winning the race that her father, Jeff, captured from behind his camera lens.
This season, Shiffrin came to Špindlerův Mlýn with 84 World Cup wins and the potential, over two slalom races, to match Ingemar Stenmark's all-time record of 86 World Cup wins. Fresh off double GS wins in Kronplatz, Italy, where she surpassed Lindsey Vonn's female record of 82 wins, this was Shiffrin's last stop on the World Cup tour before the World Championships in Courchevel, France.
(photo top: Mikaela Shiffrin celebrates her 83rd World Cup win, a giant slalom at Kronplatz, Italy. Alain Grosclaude photo/Agence Zoom/Getty Images)
On Saturday, January 28, Shiffrin captured victory 85. On Sunday, fans sensed the inevitable, history-making event, and after winning the first run Shiffrin seemed poised to deliver. But then, as if to underscore the difficulty of the pursuit, German's Lena Duerr claimed her first World Cup SL win. The .06 separating Duerr and Shiffrin meant that fans would have to wait until March for what is no longer if, but when Shiffrin will surpass Stenmark to become, by the numbers, the greatest skier of all time.
In the meantime, she had an eventful two weeks at the Alpine World Championships, winning three medals (one gold and two silvers) and parting ways with her long-time coach, Mike Day. With her gold in the giant slalom, Shiffrin equaled the modern-day World Championships record of seven victories, sharing it with Anja Pärson, Marielle Goitschel, Marcel Hirscher and Toni Sailer. 
Rewriting the Script
Since her last visit to the storybook venue of Špindlerův Mlýn, Shiffrin's life has been anything but a fairy tale. Jeff Shiffrin died tragically in February 2020. After time off to mourn her father, Shiffrin returned to racing just in time for the World Cup season to be canceled due to the pandemic.
Despite the emotional upheaval, she maintained her winning form and rode into the 2022 Beijing Olympics beneath the weighty expectations of being a medal favorite or contender in all events. There, she publicly flamed out, leaving Beijing without any medals and leaving the world with an enduring image of her in defeat, curled into a ball at the side of the course.
Anyone who bet against Shiffrin in the long term, however, would fare poorly in Vegas.
So far this season, Shiffrin has claimed 11 victories across three disciplines—slalom, GS and super-G. With nine more World Cup races on her schedule this season, the all-time record is just one that Shiffrin is resetting.
She has already tied up the season-long slalom World Cup globe, making her the first woman to win seven slalom titles. Only Vonn, with eight downhill globes, has more discipline titles.
Shiffrin holds the all-time record for slalom victories (52), and in giant slalom her 19 wins are, in women's skiing, second only to Swiss great Vreni Schneider's 20. With already double her wins from last year, Shiffrin has the potential to match or exceed her own record, set in 2019, of 17 wins across four disciplines.
86 and Beyond
In some ways Shiffrin and Stenmark's accomplishments are freakishly similar. Over her 241 World Cup starts, Shiffrin's podium percentage is 56 percent. Over his 271 starts, Stenmark's percentage was 57 percent. Shiffrin's 83rd win came on her 237th start, while Stenmark's 83rd win came on his 238th start.
In other ways, they are very different. Shiffrin's victories have come across all six Alpine disciplines—slalom, GS,
super-G, downhill, combined and parallel. Stenmark, who did not compete in downhill (except in one combined) and super-G (an event that predated most all of his career), collected all his victories in slalom and GS.
Shiffrin is reaching this record-breaking point in her career at the peak of her stride. It took Stenmark three seasons to get his final three wins. Vonn, as she told commentator Steve Porino, "literally bled for that record," patching her broken body together to get back in the gate during her final years competing.
Vonn's last victory was at age 33 and Stenmark's at age 32. Shiffrin is 27, and to this point her body has sustained no major injuries. Stenmark and Vonn have both gone on record predicting Shiffrin will eclipse their records and go on to a hundred or more victories.
The way Shiffrin has gotten to this point is, ironically, by focusing on the process rather than the numbers. "I don't feel a lot of pressure to get his record," says Shiffrin. "Now I am so close. I am trying to take a moment to enjoy it. I'm not worried about it. I can enjoy the competition for what it is and do my best."
At the February break for the World Championships, Shiffrin led the overall World Cup standings with 1,697 points to Petra Vlhova's 966. When World Cup racing resumes in March, Shiffrin will have nine more races to set the record, including two in Stenmark's home country of Sweden.
83 Wins—and 83 Roses
Skiing History contributor Patrick Lang sent along some thoughts about Shiffrin's record season, based on his conversations with
Mikaela and Eileen Shiffrin on January 24 and 25 at St. Vigilio-Kronplatz, Italy, where Shiffrin scored her 83rd and 84th World Cup victories, exceeding Lindsey Vonn's victory record of 82. Lang
arranged a gift of 83 roses for Shiffrin after Tuesday's GS win. She told reporters she needed time to figure out what to say.
Lang reports: Shiffrin is very clearly happy and relaxed, focused on her skiing rather than on numbers and records. On January 24, after winning the first of back-to-back giant slaloms, she was more interested in the details of her day. "The snow surface was perfect and I can just focus on the skiing," she said. "That's way more fun. Between the meeting, and inspections, and runs, I was able to get in four naps. It's important to get rest now, with three more races over the next four days."
She now feels that she has the support not only of her mother, Eileen, but of boyfriend Alexander Aamodt Kilde. At the World Championships break, Kilde had won five World Cup speed events, including the Lauberhorn and Hahnenkamm downhills. "Watching Alex is so inspirational," Shiffrin said. "We talk every day, about skiing, and his energy is a big part of my success."
 After 63 Years, A Canadian Gold in Slalom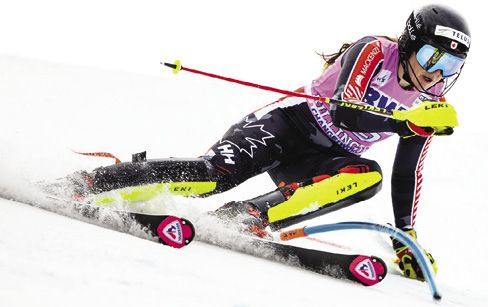 On February 18, lightning struck 28-year-old Quebecoise Laurence St-Germain. An NCAA star for the University of Vermont, and Canadian national slalom champion, in eight years on the World Cup circuit, St-Germain had never podiumed, and she finished eighth in the 2021 World Cup slalom standings. But in the second run of the World Championship slalom, she beat Shiffrin by an astonishing 1.18 second, to win the gold medal by a two-run total of .57. It was Canada's first gold medal in slalom since Anne Heggtveit took the Olympic win at Squaw Valley in 1960, and the first in any Alpine event since Kerrin Lee-Gartner won the downhill in 1992.
Warren Miller: Annual Film Not Dead
With apologies to Twain, the recent reports of the death of the annual Warren Miller ski film have been grossly exaggerated.
After acquiring the Warren Miller franchise in 2020, Outside Inc., ran into the brick wall of Covid-19. With theater-audience events canceled, the 2020 film was only available in a pay-per-view streaming format. And Outside reduced the number of tour stops in 2021. The brand took a hit, and the financial damage was considerable.
In an Instagram post in January, longtime (and now former) film director Chris Patterson noted that "due to financial challenges at Outside, the executives have chosen to assemble the future movies entirely with 'existing footage'—no need for a camera crew, plane tickets, lift tickets and for that matter, no need for athletes or snow."
Caught off-guard by the social post, Outside scrambled to set the public record straight. "We are not ending the film and we are not just trotting out archival footage moving forward," Micah Abrams, Outside's vice president of digital content development, told Skiing History in an interview. "We are absolutely continuing to tour the world with the film."
What caused the confusion after the social post is a 75th-anniversary two-film bookend plan—not public at the time—that starts with a look back at the Miller legacy in 2023–24, followed by a look forward at the future of the sport in the 2024–25 season.
According to Abrams, the 2023–24 film will be "a love letter that looks back at what got us here," with archival footage and a new narration that celebrates Miller's legacy, his more than 70 films and his embrace of exotic locales and the skiing lifestyle. The following season will be the big blowout. The 75th film will showcase "new faces, new athletes, new locations" as part of the "evolution of the film tour," Abrams says. "The 75th will focus on what skiing and boarding will be for the next generation."
With the release of Deep and Light in 1950, Miller took the ski-film genre to a wider audience. A born promoter, Miller tirelessly built his brand on his insights into the then-fringe sport, finding a pitch-perfect blend of outdoor wholesomeness and athletic sex appeal.
Miller's timing also was serendipitous. His films' popularity tracked with the explosion of skiing in the 1960s and 1970s. The Warren Miller movie soon came to be seen as the unofficial start of the ski season for many skiers. Miller, who died in 2018, sold the company to his son, Kurt Miller, in 1988. The brand went through several changes in ownership before arriving in Outside's portfolio.
Abrams emphasizes that the two-film strategy isn't about looking to the past, but rather a bridge to the future. "People don't buy a ticket to a Warren film like they buy a ticket to the latest Marvel movie," he says. "It's a tradition that we're bringing to the next generation." 
 — Greg Ditrinco
SHORT TURNS
1924 "Absolute Supremacy" ­—In Jumping or Judging?
In the inaugural Winter Olympics, in Chamonix, France, Norway topped the list of medals overall, showing "absolute supremacy in the ski events," The Times reported. American Anders Haugen (born in Telemark) jumped farther but scored lower than three Norwegians. The judges said the form and style of the Norwegians were superior, and American officials decided not to appeal. In 1974, Norwegian historian Jacob Vaage found an error in the scoring calculations, and Haugen was promoted to the bronze medal. — "Norway Wins Title in Olympic Games" (New York Times, February 5, 1924)
1957 Baby Boom
The size and ages of skiers have changed. Family skiing is becoming so popular that many centers advertise baby-sitting service or well-equipped nurseries, and rapidly expanding junior programs are turning out daredevil kid racers who can out-ski most adults. Family skiing is encouraged by the fact that some slopes not too distant from large cities are overcoming unreliable winter weather by manufacturing their own snow. — "New Sights on the Slopes"
(Life magazine, February 1957)
1970 Saturday Night Fever
If you haven't tried night skiing, don't knock it. For one thing, it's more of a social thing. In the daytime, couples may go to a ski area together, lunch together, and leave together, but rarely will they ski together. At night, usually because the slopes with the biggest challenges and longest runs aren't open, the man is contented to ski at a different pace. Besides, at night, he is more apt to regard his girl—even if she's his wife—as his date. And there are more frequent stops at the bar—to ward off the cold, of course. — "Night Skiing," Al Greenberg (Skiing Magazine, Spring 1970)
1982 Such a Deal
The price of lift tickets is up again this season. It costs you $20 to ski at Squaw Valley or Vail this year, $21 at Stowe, $22 at Aspen. But before you throw the boards and boots into the back closet, think about this: Where else can you get seven hours of mountain beauty, acres of snow groomed for you, an intense social atmosphere, trained first-aid experts looking after you and unlimited rides up a mountain so you can come flying down? Compare [the cost of skiing] to a night on the town in New York, Los Angeles or London. — Chaco Mohler, "Such a Deal," Letters (Powder Magazine, January 1982)
1998 One Board or Two?
Snowboarding's cool image has been co-opted by every kid-targeted, mass-market product, from the Ninja Turtles to the Muppets. So it's no surprise that even 3-year-olds are begging to ride. But while parents often start their kids on skis as early as age 3, experts say it may be best to wait before letting them try snowboarding. "Children under 7 are very 'gross body,'" says James Patterson, children's ski-school supervisor at Killington in Vermont. "It's hard for them to coordinate independent movements, which are crucial to snowboarding." — Moira McCarthy "The Right Age to Ride" (Snow Country, December 1998)
2010 Hard-Headed
A reader in November's letters said she was "appalled" that SKI Magazine testers were shown skiing without helmets. Is wearing a helmet safer? Sure, but wearing a helmet in your car every day would keep you safer, too. People have been skiing without helmets for a long time; I wear a helmet when I race, but I appreciate having the right to make my own decisions. — Dallas Anderson, St. Paul, Minnesota, Letters (SKI Magazine, January 2010)